Our dogs and cats are a unique part of our families. They just seem to know when something is wrong with their humans. They comfort us on cold days, snuggle up to us when we're sad, and make us smile with their silly antics.
They have a special power to make our days better, but their empathy can also work magic on their fur siblings and friends.
Some dogs and cats actually live at the vet's office (or hang out there while their owners work) and have an extra-special job — they help comfort and soothe animals who are visiting and are scared.
One vet's "comfort dog assistant" was caught on camera consoling another dog in the office, and the picture went viral.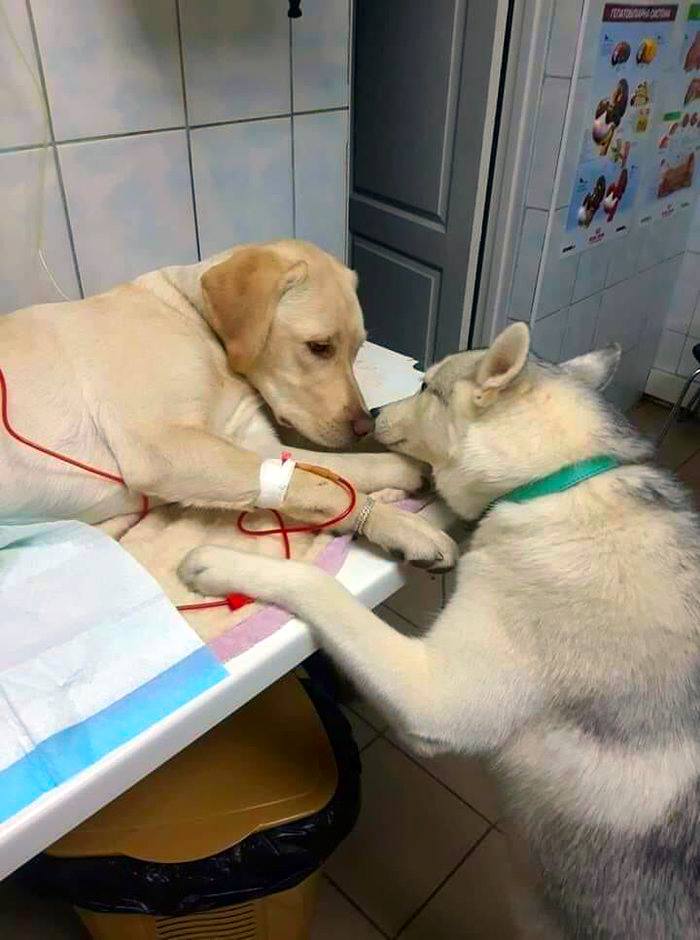 The caption reads: "This veterinarian has a comfort dog assistant that helps sick dog patients know that everything will be alright."
In the photo, a sweet-looking pup seems to be hooked up to IVs on a vet bed, and the generous pup next to him is offering a gentle nose boop to comfort him.
The photo garnered tons of attention, and for good reason. Something so pure and sweet as a dog comforting another dog during an uncertain and scary time is enough to make us ugly cry tears of joy.






Redditors chimed in with a variety of opinions about the photo. Many gushed about the adorable and heartbreaking duo. But whatever the specifics are behind this picture, it's a snapshot of comfort and sweetness that the world could use right now.
Pups like this one are doing an amazing job and they deserve all the love and appreciation in the world.