Ever since the Irwins welcomed their newest addition to the family, people became even more fascinated with one of the most famous families of animal lovers in the world.
Late Steve Irwin, "The Crocodile Hunter," installed the love for nature and the animals into his children and now they are both following in his footsteps and are doing their best to keep his legacy alive.
Through his passion and the out-of-this-world videos and documentaries of incredible species, he made millions look at nature and the creatures living in the wild and the oceans with fresh eyes. Not only was he an animal lover, but a very famous advocate and conservationist too.
Unfortunately, he died back in 2006, leaving the world mourning. During filming at the Great Barrier Reef, Australia, Steve was pierced through the chest by a stingray.
"He was having trouble breathing. Even if we'd been able to get him into an emergency ward at that moment we probably wouldn't have been able to save him, because the damage to his heart was massive," Justin Lyon, an underwater cameraman and Steve's close friend told Australia's Network Ten television.
"As we're motoring back I'm screaming at one of the other crew in the boat to put their hand over the wound and we're saying to him things like, 'Think of your kids, Steve, hang on, hang on, hang on.' He just sort of calmly looked up at me and said, 'I'm dying.' And that was the last thing he said."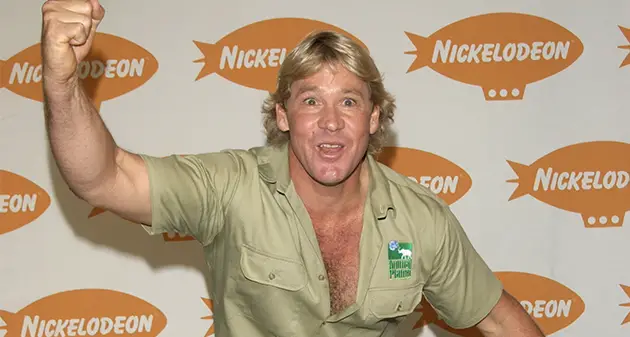 Growing up surrounded by animals, it doesn't come as a surprise that Steve's children, Robert and Bindi Irwin, share the same passion as their dad.
Bindi was born on July 24, 1998. She was only eight years old when her dad died. Living at a zoo, her life was much different than that of her peers, but she loved every second of it. In fact, even today, she and her family are working at the Australia Zoo.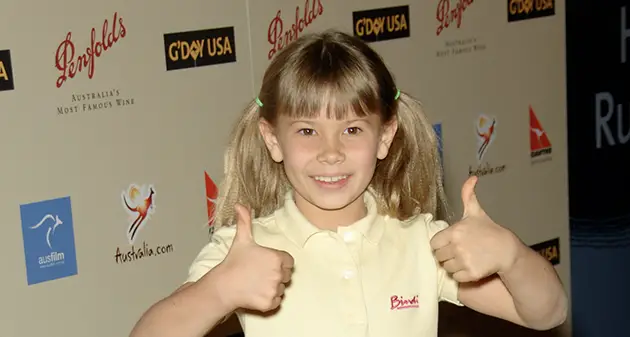 Today, Bindi is married to the love of her life, Chandler Powell, a professional wakeboarder whom she met while he was visiting the Zoo.
"[Bindi and I met] right next to where Steve and Terri met [after] Steve had just finished a croc demonstration," Chandler said of meeting Bindi. "I met Bindi right next door, and I was holding a koala and Bindi was holding an echidna, and it was just love at first sight."
Later, when he headed back home, he wrote a letter to Bindi's mom Terri asking if he could contact her daughter. He proposed to Bindi on her 21st birthday and she shared the news with her followers writing: "On my birthday I said 'yes' & 'forever to the love of my life. Chandler, close to 6 years ago I fell in love with you & every day since has been a whirlwind of adventure & true happiness. Here's to a lifetime of friendship, purpose & unconditional love."
In 2020, the two tied the knot. Bindi decided to keep her last name as a tribute to her late father, and Chandler decided to take the surname Irwin.
"I've kept Bindi Irwin," she told Entertainment Tonight. "I think that for me personally after dad passed away, it was really important for me to feel close to him, and having his last name means so much to me."
"Chandler has become an Irwin now," he added. "It has become a part of me. Everyone has their own ideas, but the nice thing is that it's 2020 now. Anything works!"
Before the wedding, Bindi shared a beautiful photo of her and Steve and wrote: "Thank you for being my guiding light. You're always with me."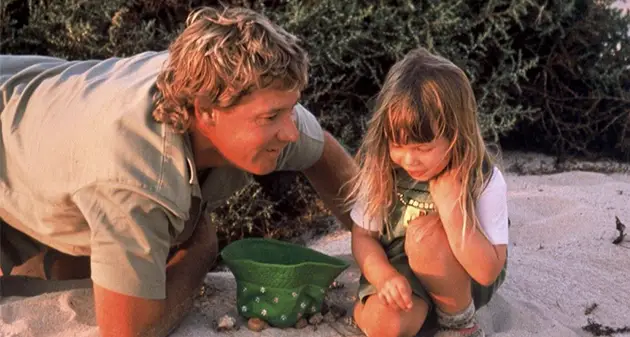 When she announced the birth of daughter Gracie, Bindi also spoke of the pain of not having her father by her side during those moments in life.
"It's going to be really special. It's going to be really special for her to know him through us, to tell her about what an amazing man he was. It is really hard. It's hard that he's not here because out of everyone in the world, gosh, he would have loved her the most," she said.
"He would have loved her so much. But I think in a way he is still with us. And his heart and soul lives on in all of us and, so yeah, he's never really gone."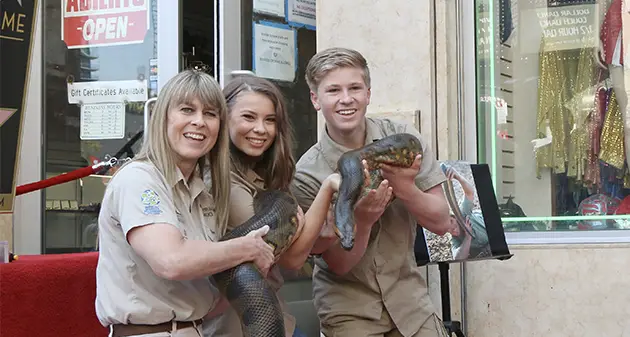 Gracie is now living surrounded by animals, just like her grandparents, her parents, and her uncle. She gets to meet them one at a time, and we are sure that she will grow into an animal lover herself. She resembles her mother so very much, and there's no doubt she will share the love for animals too.
Recently, Bindi shared a photo of herself with her mom and one of Gracie next to it. "Baby Grace Warrior & Baby Bindi Sue. Like mama like daughter. We both love our hoodie towels."
Steve is missed by many, especially his family. They all agree that he would have been an amazing grandpa to little Gracie.
"I don't think we would've ever seen our daughter. He would've just whisked her away into the zoo and it would've been perfect," Bindi told Entertainment Online.
"But it is so nice that we'll be able to introduce her to her grandfather through all of the documentaries. It's really special."