After Princess Diana's death, the young princes were allowed to choose an item from their mom's personal jewellery collection to hold on to.
The bond between siblings is the strongest and most profound there is. This relationship is deepened even further when a parent is lost. In tragic times like that, siblings get even more connected to one another because they feel the same heartache.
And this is true for anyone, no matter if you are an ordinary person or a member of the Royalty.
On the day the Princess of the People, Lady Di, died, William and Harry lost their loving mother. She was loved by many because she was never afraid to stand for what she believed in. Her courage and heart of gold were something not many possess.
Today, however, the bond between the brothers is almost broken after Harry and wife Meghan decided to step down from their royal duties and move to the States, and later gave a bombshell interview during which they made accusations against the royal family, with Harry even saying that his father and brother are trapped in the system.
After the funeral of Prince Philip in April this year, it looked like the relationship could be fixed as Harry and William met after almost a year, but that wasn't really the case.
Losing their mother was devastating for Harry and William. The sight of them walking behind her coffin broke millions of hearts.
After her passing, the young princes were allowed to choose an item from their mom's personal jewellery collection to hold on to, as revealed by Princess Diana's personal butler Paul Burrell in the Amazon Prime documentary The Diana Story. Paul recalled that Prince William was the first to choose. "I'd like mummy's Cartier watch, the one that Grandpa Spencer gave to her for her 21st birthday," he was reported to had said. Prince Harry chose his mom's famous engagement ring. "I remember when I held mummy's hand when I was a small boy and that ring always hurt me because it was so big," Paul cited young Harry saying.
The two brothers now only had those pieces of jewellery and the memories to remind them of their mother.
Years later, when Prince William met Kate Middleton and knew she was the one, Harry believed she should have their mom's ring. He knew that piece of jewellery was way too precious to Princess Diana and felt it should be passed on to someone just as special as Kate. Paul said of that touching moment, "Harry said to him: 'Wouldn't it be fitting if she had mummy's ring? Then one day that ring will be sat on the throne of England.'"
William was honoured and proposed to Kate in 2010 with that ring that still has sentimental value for both the brothers.
William asked Kate to be his wife during a trip to Kenya and made the whole of Britain happy. Seeing him starting his own family filled people's hearts with joy. Everyone knew his mother was watching from above and smiling.
The Prince spoke of the ring and told ABC News, "Well as you may recognize now, it's my mother's engagement ring and it's very special to me, as Kate is very special to me now as well. It was only right the two were put together."
"It was my way of making sure mother didn't miss out on today and the excitement and the fact that we're going to spend the rest of our lives together," the prince added.
Harry himself wanted to honour his late mother when he got engaged to actress Megan Markle and designed the engagement ring himself.
The yellow-gold ring has three diamonds. The central stone is from Botswana, a place Prince Harry keeps close to his heart, and the diamonds on the sides belong to Princess Diana and are part of her personal collection.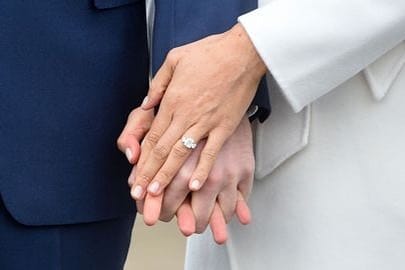 Meghan said she was very happy and very honoured to be having a ring that will always remind her of her husband's mother, whom she never met, but Harry loves deeply. "It's so important to me to – to know that she's a part of this with us," Meghan was reported saying.
Asked about what his late mother would think of his choice, Harry said smiling, "Oh they'd be thick as thieves, without question. I think she would be over the moon, jumping up and down, you know so excited for me, but then, as I said, would have probably been best friends – best friends with Meghan. So now it's – you know it is days like – days like today when – when I really miss having her around and miss being able to share the happy news. But you know with the ring and with everything else that's going on I'm sure she's…"
Both Prince William and Prince Harry pay tribute to the People's Princess whenever they have a chance.